Garden Park Senior Living is a mixed income community that offers apartment homes for unrestricted and restricted income residents. Restricted income residents are subject to the Maximum Allowable Household Incomes identified below.
SENIOR HOUSING: This community is a senior community. To qualify, at least one person in the household must be
Age 62 or older OR
Age 55 or older AND one person in the household must be permanently disabled as evidenced by the completion of form DR416 - Physician's Certification of Disability.
NOTE: The person with the disability does not have to be the person who age qualifies. Any other household members (except approved live-in caregivers) must be age 40 or older.
HOUSEHOLD SIZE: Includes each person who will reside in the home.
HOUSEHOLD INCOME: All income from any income source, including but not limited to, all wages, social security payments, retirement benefits, military and veteran's disability payments, unemployment benefits, welfare benefits, and interest and dividend payments.
MAXIMUM ALLOWABLE HOUSEHOLD INCOME: HUD ("US Department of Housing of Urban Development") publishes annual income limits based on household size that are used to determine the maximum household income.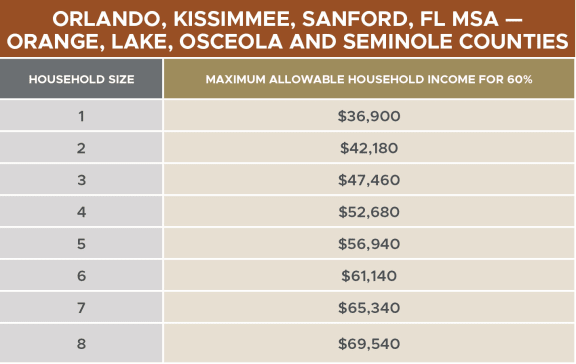 Apartment homes not subject to restricted income limits are also available at this community.
STUDENT ELIGIBILITY: If everyone in your household (including children) are full-time students, at least one person must meet one of the following eligibility requirements:
Be married and eligible to file a joint tax return.
Be a single parent with dependent children.
Receive benefits from AFDC or TANF (does not include SNAP or disability benefits from Social Security).
Be enrolled in a job training program under the Job Training Partnership Act (JTPA) or a similar program.
Be a person who was previously under the care and placement of the State agency responsible for Foster Care.
Full-time student status is determined by the educational institution attended. Enrollment in even one college course may be considered full-time. All children in kindergarten, elementary, middle or high school are considered to be full-time students.